Wisconsin's
Red Standard Poodles
with
OutStanding
Color
Phantom & Parti Colors Have Arrived
At
Araeahs
____________________________________________________________
Gracie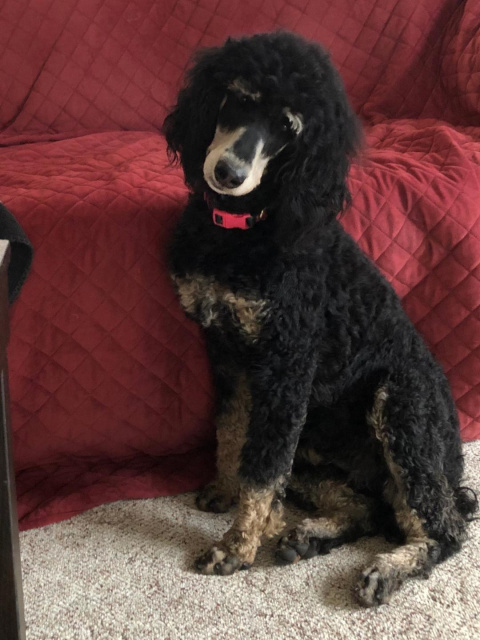 "State of Wisconsin licensed and inspected: 480437-DS"
Follow and Like Us on FaceBook
https://www.facebook.com/Araeahs-Red-Standard-Poodles-1573606729575142/?fref=ts

Small Breeder specializing in Red Standard Poodles,
located on a small acreage
where nature surrounds us, in beautiful rural Wisconsin.
Our home and our hearts are shared with our gorgeous
Dark Red Standards.
Our goal is to breed the dark rich red color that holds,
while maintaining the calm temperament that we love about our standards.
However, Araeah's cannot guarantee that at some point,
the red color may fade.
All our standards are AKC & some are UKC registered
Standards adapt very well and fit into a family routine rather quickly,
they are intelligent canines and are natural companions to young and old. They
make great therapy dogs, they also love competing in all AKC & UKC trials.
Several of our dogs have earned:
Rally Novice
Canine Good Citizen
Trick Novice & Intermediate
AKC Titles
Poodles are great retrievers and are being used as hunting dogs,
excellent guard dogs along with
just about anything else their humans can think of for them to do.
If you put in the time with your Poodle they have the ability to do anything for you.
Poodles do not shed and work well for people with allergies & all Disabilities
Araeah's is an AKC Bred with H.E.A.R.T Breeder
We have made an on-going commitment to the health and well-being of purebred dogs by committing to the following program requirements:
HEALTH
Certifying that their breeding stock is health tested in accordance with the recommendations of their breed's AKC Breed Parent Club.
EDUCATION
Promising that they will pursue AKC provided or AKC approved continuing breeder education so that they stay current on the best breeding practices, including advances in canine health.
ACCOUNTABILITY
Agreeing to comply with the AKC Care and Conditions Policy, including inspections by the AKC, and promising to share with AKC health testing and continuing education documentation.
RESPONSIBILITY
Accepting responsibility for the health and well-being of the puppies they produce and for complying with all laws regarding the ownership and maintenance of dogs.
TRADITION
Upholding the AKC's tradition of breeding purebred dogs that are happy and healthy.